Bass that means business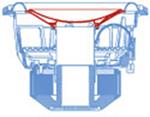 JL Audio W6v2 subwoofers deliver knockout low end with audiophile-quality sound. The patented polypropylene W-Cone™ design promotes strength without adding bulk which can slow woofer response. JL Audio conducted extensive research to ensure that the W6v2 sub's motor structure operates efficiently and precisely, delivering powerful, reliable bass. Exclusive cone-bonding assemblies, advanced cooling systems, and a highly stable spider attachment enhance reliability and promote long performance life.
---
Precision-crafted low end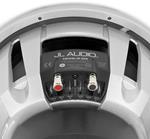 The sub's solid cast-alloy basket allows your W6v2 sub to handle big-time power without any distortion-causing flexing. A sophisticated suspension system promotes linear cone movement for greater accuracy. The simple terminal jumper wiring system allows you to set the subwoofer's impedance to draw maximum power from your amplifier, or to design a multi-sub setup.
---
Features
W-Cone: The JL Audio W6v2 subwoofer utilizes a W-Cone design, a unit-body cone assembly, that delivers astonishing cone stiffness with minimal mass. The shape also provides incredible torsional rigidity, which is critical to maintaining voice coil alignment at the suspension limits. In order to gain maximum stiffness, two lightweight mineral-filled polypropylene skins are bonded together at the perimeter and the center of the assembly. The lower skin's cross-section is shaped like a "W", and provides incredible rigidity when bonded to the dished upper skin.
Dynamic Motor Analysis (DMA): DMA is JL Audio's proprietary method aimed at improving dynamic motor behavior. As a result of DMA optimization, W6v2 motors remain linear in motor force over a very long range of excursion, and also maintain a highly stable fixed magnetic field in the gap over a wide power range. The result is vastly reduced distortion, faithfully reproduced transients, and tight, clean, articulate bass.
Floating Cone Attachment Method (FCAM): JL Audio's patented FCAM technology is an innovative method of bonding the surround/cone assembly to the voice coil/spider assembly. This assembly technique ensures proper surround geometry in the assembled speaker for better excursion control and dynamic voice coil alignment.
Engineered Lead-Wire System: The co-extruded lead wires work in conjunction with critically-engineered entry and exit support structures to achieve flawless high-excursion operation. The flying lead design does not compromise spider linearity or radial stability the way "woven in" lead wire designs do.
Progressive-Roll Spider: The large, progressive-roll spider provides precise control and motor/voice coil alignment without limiting excursion prematurely.
Ventilation: The woofer's large, diffused pole-vent works in conjunction with specifically engineered molded "NeckVents" in the lower cone body to remove hot air from the voice coil gap. This pole vent is located around the JL Audio badge at the rear of the speaker. The elevated frame design of the W6v2 delivers high-velocity air flow through slots directly above the top plate to the voice coil of the speaker. This not only enhances power handling, but also sound quality by minimizing dynamic parameter shifts and power compression.
Note: A minimum distance of 3/4″ is required between the back of the speaker and any wall of the enclosure to allow proper operation of the pole vent.
Terminal Jumper System: The W6v2 features dual voice coils with a single set of spring-loaded push terminals and the Terminal Jumper System. The Terminal Jumper System consists of four voice coil configuration tab terminals, located behind the push terminals, that are used to interconnect the dual voice coils in one of two ways–series or parallel. The system comes from the factory with two jumpers configured in a parallel fashion, resulting in a 2-ohm load presented at the speaker terminals. To switch to a series connection, you should use one jumper connected from "VC1-" to "VC2+". The series connection presents an 8-ohm load to the speaker terminals.
Note: Both voice coils must be connected to the amplifier in order for the speaker to perform properly.
Customizable Trim Ring: The woofer comes with a removable ring made of black ABS plastic which can be painted to match the installation theme and create a personalized look. You can purchase optional grille mesh inserts which are specifically designed to fit into the inner diameter of the trim ring.
---
Specification