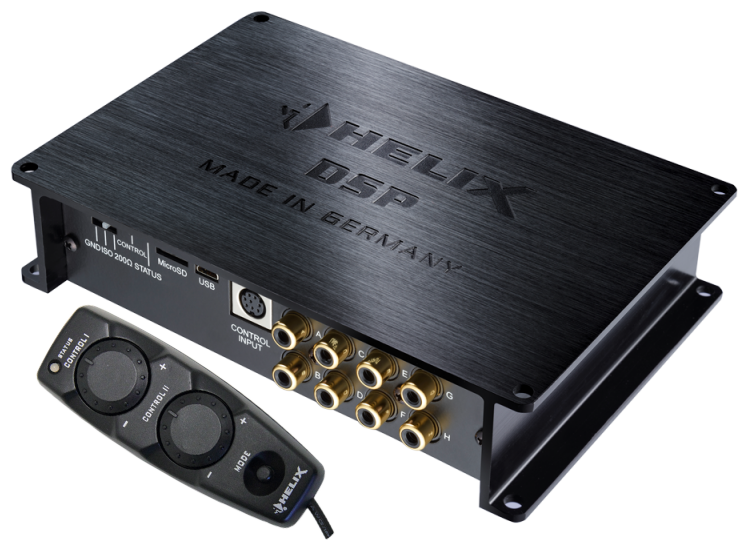 The first stand-alone DSP that deserves to be called a HELIX. The new HELIX DSP is more than convincing proof that noisy, distorting sound processors are finally a thing of the past. Excellent technical specs are combined with a feature package that could hardly be more impressive in actual practice. Intuitive operation thanks to a clearly structured graphical PC interface enables any ambitious sound freak to optimize the sound virtually any which way.
---
Freatures
Powerful "fixed point" Audio DSP with 56 Bit resolution

Freely configurable inputs and outputs

Paragraphic 30-band EQ per channel with ultra-precise 0.25 dB steps, fine adjustment of the individual bands in 1/24 octave steps and a quality setting between 0.5 and 15

Time-alignment adjustment in narrow 7 mm steps

Various filter characteristics with 6 – 30 dB slope available

Inputs: 6 x RCA, 4 x highlevel, 1 x optical

Outputs: 8 x RCA and remote output

Extremely compact dimensions: 40 x 177 x 120 mm; 1.6 x 7 x 4.75″
---
Special features:
Power Save Mode Specification
The Power Save Mode is incorporated in the basic setup. It allows to significantly reduce the power consumption of the amplifiers that are connected to the HELIX DSP once there's no input signal present for more than 60 seconds. Please note that in many up-to-date cars with "CAN" or any other internal bus structures it may happen that the radio remains "invisibly" turned on for up to 45 min. even after leaving the car! Once the "Power Save Mode is active the "Remote Output" and therefore the connected amplifiers will be turned off. The HELIX DSP will reactivate the "Remote Output" within a second if a music signal is applied. It is possible to either modify the turn-off time of 60 sec. or completely deactivate the "Power Save made" via theDSP PC-Tool software.
Start-/Stop capability
The switched power supply of the HELIX DSP assures a constant internal supply voltage even if the battery's voltage drops to 6 Volts during engine crank.
Automatic Digital Signal Detection
Switching from analog input to the digital input is done automatically as soon as an signal is detected on the optical input. This feature can be deactivated in the DSP PC-Tool software. Alternatively you can use the optional cable remote control URC 2A for manual switching between analog and digital inputs.
---
Specification
Inputs

6 x RCA




4 x Highlevel speaker input




1 x Optical SPDIF-Format (6-96 kHz Sampling Rate)




1 x Remote In

Input sensitivity

RCA/Cinch 4 Volts (internally adjustable) – default 4 Volts




Highlevel 5 – 11 Volts (intern. adjustable) – default 11 Volts




(corresponds to 6 – 30 Watts RMS – not max. power)

Outputs

8 x RCA




1 x Remote Out

Output voltage

Max. 4 Volts RMS

Frequency response

10 Hz – 22,000 Hz

DSP resolution

56 Bit

DSP processing power

172 MHz

DSP type

Audio signal processor

Signal converter

A/D: BurrBrown




D/A: BurrBrown

Signal-to-noise ratio – digital input

Signal-to-noise ratio – analog input

112 dB (A-weighted)

107 dB (A-weighted)

Total harmonic distortion (THD+N) – digital input

Total harmonic distortion (THD+N) – analog input

< 0.001 %

< 0.003 %

IM distortion (IMD) – digital input

IM distortion (IMD) – analog input

< 0.003 %

< 0.007 %

Crosstalk

> 90 dB @ 10 kHz

Operating Voltage

9.2 – 18 Volts, short drops down to 6 Volts acceptable

Current draw

< 450 mA

Dimensions (H x W x D)

40 x 177 x 120 mm / 1.6 x 7 x 4.75"