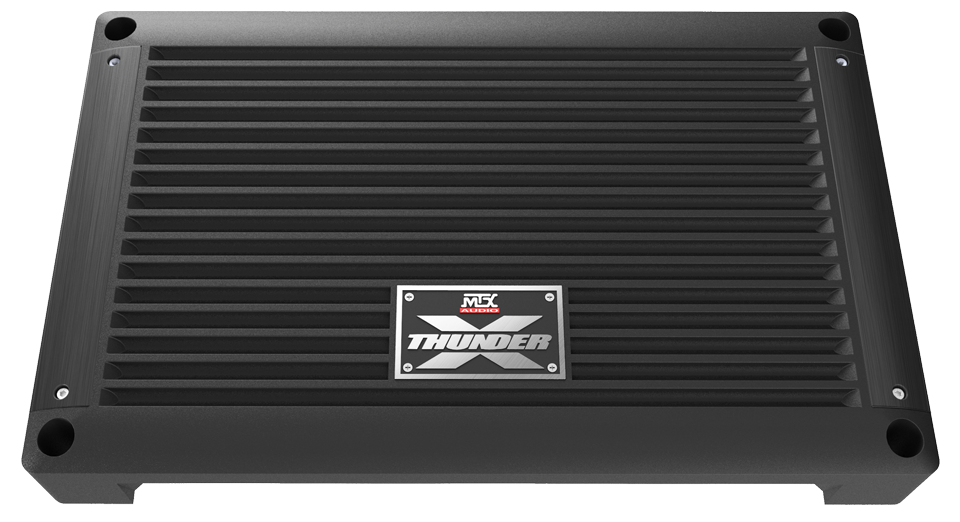 The XTHUNDER1500.1 utilizes highly efficient class D amplifier topology to ensure excellent thermal management under the harshest conditions. Capable of delivering 1500W RMS power into a 1Ω load, the XTHUNDER1500.1 is ideally suited to power MTX SuperWoofers and large, multiple subwoofer deployments.
Using high end materials and a dedication to precision workmanship, the XTHUNDER Series deliver exceptional sound quality and performance.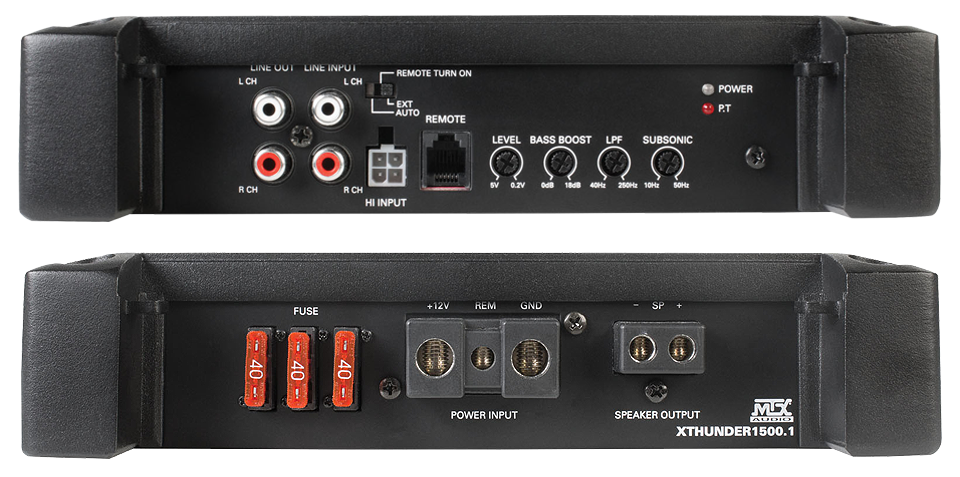 ---
Built To Drive BIG Sub Systems
The unit features a dual sided circuit board wiith increased copper traces that maximize electrical transfer and minimize power lost before it gets to your speakers. The surface mount technology, is incredibly durable and vibration resistant, allowing them to be damage resistant even when deployed in big systems. The entire top cover functions as a heat sink with a lot of surface area to effectively dissipate heat so that it can play louder and longer. The top cover includes removable side covers that allow for easy access to connections and settings even after installation.
The feature set on the XTHUNDER1500.1 is loaded and enables full customization to ensure the best possible sound quality without distortion. Customization includes a low pass filter, subsonic filter, and bass boost that allow you to get exactly the sound you want from your subwoofers.
Features
| | |
| --- | --- |
| Class D Topology Ensures Excellent Thermal Efficiency | |
| Low Profile Design Allows for Installation Anywhere | |
| Cast Aluminum Top Cover Efficiently Dissipates Heat | |
| Variable Butterworth Crossover 12dB/Oct | |
| Variable Bass Boost 0-18dB | |
| Includes EBC Allowing for Bass Adjustment from Driver's Seat | |
| Variable Subsonic Filter | |
| Thermal, DC Offset, and Short Circuit Protection Circuitry | |
Tech Specs
| | |
| --- | --- |
| 4 Ohm RMS Power Output | 600 Watts |
| Signal to Noise Ratio | >60 dB |
| 2 Ohm RMS Power Output | 900 Watts |
| 1 Ohm RMS Power Output | 1500 Watts |
| THD | <0.2% |
| Frequency Response | 10Hz – 250Hz |
| Maximum Input Signal | 5V |
| Max Sensitivity | 100mV |
| Low Pass Filter | Variable, 40Hz – 250Hz, 12dB/Oct |
| Subsonic Filter | 10Hz – 50Hz, 12dB/Oct, Variable |
| Bass Boost | 12dB @ 45Hz |
| Topology | Class D |
| Depth | 8.9″ (226.7mm) |
| Length | 14.2″ (359.9mm) |
| Height | 2.03″ (51.5mm) |